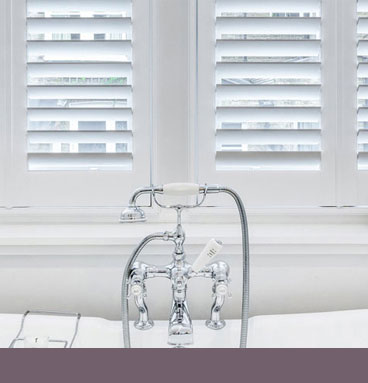 Waterproof LVL+ shutters are a perfect blend of LVL and ABS which makes these shutters highly hardwearing and moisture resistant giving them the ability to withstand humidity and unstable weather.
We often find our customers concerned about the durability of plantation shutters in areas like bathrooms, kitchens as these are the spaces that are prone to face moisture and unstable temperature. Waterproof LVL+ is specially designed to offer you the peace of mind and a long lasting not to mention stylish window solution.
Ideal For Bathroom And Commercial Installations
Waterproof LVL Plus, the name says it all. Our customers are usually concerned about the quality and resilience of plantation shutters specifically for bathrooms and kitchens as these areas have frequent exposure to humidity and moisture therefore the windows in this part of the home require a robust and durable window treatment solution.
Waterproof LVL Plus are excellent and suitable for any living space and with their advanced co-polymer material they are designed to withstand any temperature thereby ensuring a long-lasting finish and a stylish window furnishing.
Request a FREE Appointment With Our Advisor

Call 800 5770610
Made-to-measure
Every shutter is made to measure for the perfect fit.
Quality assurance
All shutters come with a manufacturer's warranty.
Experienced Craftsmen
Each shutter component is carefully fitted by experienced craftsman
Everything's Guaranteed
Accurately measured, carefully fit and beautifully finished